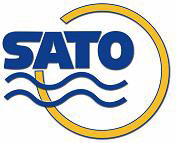 The SATO Group, firmly established in New Caledonia for more than 40 years, has modern and efficient means at the service of maritime transport professionals.
A large fleet of equipment, adapted to the new management of ships, with facilities and equipment of adapted technical qualities (2 Gottwald cranes, 4 Steakers with a capacity of more than 25 tons and more than 10 elevators),
A network using the latest technologies,
A team of experienced and regularly trained professionals,
An ecological awareness to preserve our island and contribute to the global policy of reducing CO² emissions
Specialist in port handling, container ships, ro-ro, dry bulk vessels, dock service, lifting, loading, unloading containers
Our skills combined with the material means at our disposal allow us to manage ships alongside at the same time by achieving performances worthy of the largest ports.
A dynamic management team manages the company and customer relations.
Contacts
Adress: 18 avenue James Cook – 98 800 Nouméa
Phone: +687 28 11 22
GENERAL MANAGEMENT
Thierry ONO-KITIRO
Phone: +687 28 08 13
Mobile: +687 78 25 72
E-mail: o_thierry@sato.nc
SALES &OPERATIONS
Julien BINAND
Phone: +687 28 08 00
Mobile: +687 78 33 62
E-mail: operation@sato.nc
WHAREHOUSE
Yoran ANDREA
Phone: +687 28 08 18
E-mail: dock@sato.nc