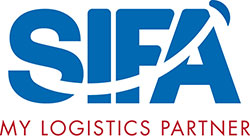 SIFA NEW CALEDONIA : Your PARTNER in LOGISTIC, FREIGHT (air, sea, combined) and CUSTOMS BROKERAGE.
SIFA NC is THE logistic facility nearby. It can be adapted to fit your needs.
We can take your orders out of : EUROPE, ASIA, USA, CANADA, AUSTRALIA and NEW ZEALAND
At our facilitY in PANDA, we have : PALLET STORAGE; COLD STORAGE; PRIVATE STORAGE; ORDERS PICKING; as well as deliveries to all over the country.
Our IT gives you access to the tracking of your orders (freight) or stock status (logistic)
ASK for a FREE QUOTE on line at : www.sifalogistics.com
Contacts
Opening hours : Monday to Thursday from 7 AM to 5 PM  – Friday from 7 AM to 4 PM
Adress: 28 rue des Arpenteurs – ZI PANDA – 98 835 Dumbea – New Caledonia
Phone: +687 24 24 42
Mail: nc-contact@sifalogistics.com
MANAGEMENT
Amandine IGIER
E-mail: aigier@sifalogistics.com
SALES
Phone: +687 24 24 42
E-mail: nc-commercial@sifalogistics.com
CUSTOMS BROKER
Phone: +687 24 24 43
E-mail: nc-douane@sifalogistics.com
MAD
Phone: +687 24 24 44
E-mail: nc-log@sifalogistics.com