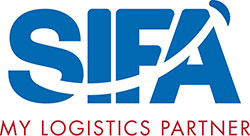 SIFA NC is the logistics platform that adapts to your needs, we take charge of your orders from Europe, Asia, the USA, Australia, New Zealand) to your home or your customer.
Our PANDA platform offers pallet storage, cold storage, private boxes, order picking, as well as delivery throughout the territory.
Tracking of shipments and stock status.
Free quote online at: www.sifalogistics.com
Contacts
Adress: 28 rue des Arpenteurs – ZI PANDA – 98 835 Dumbéa
Phone: +687 24 24 42
E-mail: nc-contact@sifalogistics.com
GENERAL MANAGEMENT
Amandine IGIER
E-mail: aigier@sifalogistics.com
SALES
Phone: +687 24 24 42
E-mail: nc-commercial@sifalogistics.com
CUSTOMS BROKERAGE
Phone: +687 24 24 43
E-mail: nc-douane@sifalogistics.com
BONDED WHAREHOUSE
Phone: +687 24 24 44
E-mail: nc-log@sifalogistics.com