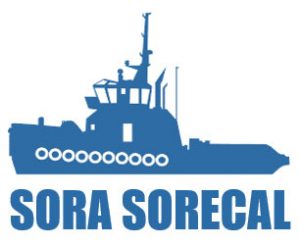 SORA (shiphandlings) and SORECAL (maritime and salvage towage) are two Caledonian subsidiaries of the COMPAGNIE MARITIME CHAMBON.
Created in 1970, SORA holds a public service delegation agreement with the port of Noumea and provides 100% of the shiphandlings in port area. Up to 1,800 ships towing operations are carried out each year.
SORECAL appeared in 1993 and positioned itself with tugs and barges on all the markets of marine works, transport to the islands, assistance to ore carriers on mining centers and ships in difficulty.
With 50 years of presence in New Caledonia, recent ships and an excellent reputation, SORA and SORECAL remain the local reference in towing and maritime assistance.
Contacts
SORA (shiphandlings) and SORECAL (maritime and salvage towage)
Adress: 62 bis avenue James Cook, Nouville – BP 1666 – 98 845 Noumea Cedex – New Caledonia
Phone: +687 27 45 57
E-mail: sor1666@canl.nc
Web: www.sorasorecal.nc/